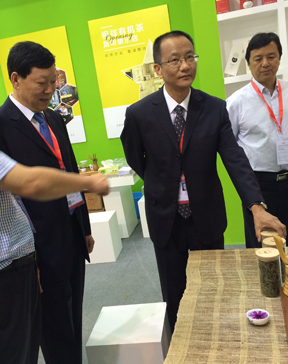 Pu'er zuxiang highmountain tea garden co.,ltd is located in the south western of Yunnan province: Zhengwan village, Nanping town, Pu'er city, which is commended as "home of the Tea", "The origin of the tea world" and"The capital of pu'er". This is such a place where the Dai people populated in with quite rich tea culture. The average elevation of it is about 1300 meters and Asian Corridor in Heaven had crosses the whole land of it.

We have self-owned organic tea garden of 166 hectares which were reclaimed from secondary forest in 1998, there was no any planting history but clear and fertile land.

Insisting in rigid organic planting and management since reclaimed without any of chemical pesticides and fertilizers.

We are constructing our new organic factories(Covers an area of 32000 square meters with value of 98000000RMB) and bring in new machines according to food production standard regulations for organic tea processing to achieve the perfect combination of modern processing management with traditional technology.

Our tea garden and products obtained China, EU, NOP and JAS organic certification continuously since 2010. The products have been exported to Europe and the United States.

There are three characteristics of Zuxiang organic tea: mellow and exquisite taste, obviously sweet aftertaste, and various types of aroma, thanks to the elaborately processing way of organic fresh leaves, which is a combination of traditional manual methods with modern technology and machines.